Punica Granatum L - A Nutraceutical functional food
Dr. Priyadharshini K

Post Graduate Scholar, Department of Pedodontics and Preventive Dentistry, Bangalore Institute of Dental Sciences and Hospital, Bangalore, Karnataka, India.

Nandan N

Reader,Department of Pedodontics and Preventive Dentistry, Bangalore Institute of Dental Sciences and Hospital, Bangalore, Karnataka, India.

Sunil Raj

Professor and Head, Department of Pedodontics and Preventive Dentistry, Bangalore Institute of Dental Sciences and Hospital, Bangalore, Karnataka, India.

Kumar NC

Professor, Department of Pedodontics and Preventive Dentistry, Bangalore Institute of Dental Sciences and Hospital, Bangalore, Karnataka, India.

Pooja BL

Associate Professor, Department of Pedodontics and Preventive Dentistry, Bangalore Institute of Dental Sciences and Hospital, Bangalore, Karnataka, India

Manjushree R.

Senior Lecturer, Department of Pedodontics and Preventive Dentistry, Bangalore Institute of Dental Sciences and Hospital, Bangalore, Karnataka, India.
Keywords:
Pomegranate, Phytochemicals, Antioxidant, Functional food, Nutraceutical
Abstract
Pomegranate is a widely used plant having medicinal properties. Pomegranates and their extracts may serve as natural alternatives due to their potency against a wide range of bacterial and viral pathogens. The synergistic action of the pomegranate constituents appears to be superior to that of single constituents.Pomegranate provides health benefits, that is, a nutraceutical food. It is used in dentistry as an active ingredient such as mouth rinse for plaque control, treatment of various oral lesions, storage media for avulsed teeth, wound healing. This paper describes the uses of pomegranate, its mechanism and various therapeutic and dental applications.
Downloads
Download data is not yet available.
References
Julie Jurenka, MT (ASCP). Therapeutic Applications of Pomegranate (PunicagranatumL): A Review. Alternative Medicine Review 2008; 13(2):128-144.
Larrosa M, Gonz´alez-Sarr´ıas A, Y´a˜nez-Gasc´on MJ, Selma MV, Azor´ın-Ortu˜no M, Toti S, Tom´asBarber´an F, Dolara P, EspinaJ C. Anti-inflammatory properties of a pomegranate extract and its metabolite urolithin-A in a colitis rat model and the effect of colon inflammation on phenolic metabolism. J Nut Biochem 2010; 21(8):717–25.
Longtin R. The pomegranate: nature's power fruit? J Natl Cancer Inst 2003; 95:346–8.
Aviram M, Dornfeld L, Rosenblat M, Volkova N, Kaplan M, Coleman R, Hayek T, Presser D, Fuhrman B. Pomegranate juice consumption reduces oxidative stress, atherogenic modifications to LDL, and platelet aggregation: studies in humans and in atherosclerotic apolipoprotein E-deficient mice. Am J ClinlNutr 2000; 71:1062–76.
Vidal A, Fallarero A, Pena BR, Medina ME, Gra B, Rivera F, Gutierrez Y, Vuorela PM. Studies on the toxicity of PunicagranatumL. (Punicaceae) whole fruit extracts. J Ethnopharmacol 2003; 89:295–300.
SowmyaKote, Sunder Kote, Lakshminarayan Nagesh. Effect of Pomegranate Juice on Dental Plaque Microorganisms (Streptococci and Lactobacilli). AncSci Life 2011; 31(2): 49–51.
M. G. Miguel, M. A. Neves, M. D. Antunes. "Pomegranate (PunicagranatumL): a medicinal plant with myriad biological properties—a short review,"Journal of Medicinal Plant Research 2010; 4(25):2836–2847.
M. Viuda-Martos, J. Fern´andez-L´opez, J.A. Perez- ´Alvarez. Pomegranate and its Many Functional Components as Related to Human Health: A Review. Comprehensive Reviews in Food Science and Food Safety 2010; 9: 635-654.
SreejaSreekumar, HimaSithul, Parvathy Muraleedharan, Juberiya Mohammed Azeez, Sreeja Sreeharshan. Pomegranate Fruit as a Rich Source of Biologically Active Compounds. BioMed Research International 2014; 1-12.
Haryono Utomo and Kimberly Clarissa Oetomo. Pomegranate juice (Punicagranatum) as an ideal mouth rinse for fixed orthodontic patients. Dental journal 2012; 45(4):221-227.
A. Faria, C. Conceic¸˜ao. "The bioactivity of pomegranate: impact on health and disease," Critical Reviews in Food Science and Nutrition 2011; 51(7): 626–634.
Boussetta T, Raad H, Lett´eron P, Gougerot-Pocidalo MA, Marie JC, Driss F, El-Benna J.Punicic acid, a conjugated linolenic acid, inhibits TNFα-induced neutrophil hyperactivation and protects from experimental colon inflammation in rats. PLoS One 2009; 4(7):6458.
Lee CJ, Chen LG, Liang WL, Wanga CC. Antiinflammatory effects of Punicagranatum Linne in vitro and in vivo. Food Chem 2010; 118:315–22.
Romier-Crouzet B, Walle JV, During A, Joly A, Rousseau C, Henry O, Larondelle Y, Schneider YJ. Inhibition of inflammatory mediators by polyphenolic plant extracts in human intestinal Caco-2 cells. Food ChemToxicol 2009; 47:1221–30.
Gordon MF. The mechanism of antioxidant action in vitro. In: Hudson BJF, editor. Food antioxidants.London: Elsevier Applied Science. 1990; 1– 18.
Naveena BM, Sen AR, Kingsly RP, Singh DB, Kondaiah N. Antioxidant activity of pomegranate rind powder extract in cooked chicken patties. Int J Food SciTechnol 2008; 43:1807–12.
Negi PS, Jayaprakasha G K. Antioxidant and antibacterial activities of Punicagranatumpeel extracts. J Food Sci 2003; 68:1473–7.
Guo C, Wei J, Yang J, Xu J, Pang W, Jiang Y. Pomegranate juice is potentially better than apple juice in improving antioxidant function in elderly subjects. Nutr Res 2008; 28:72-77.
Tzulker R, Glazer I, Bar-Ilan I, Holland D, Aviram M, Amir R. Antioxidant activity, polyphenol content and related compounds in different fruit juices and homogenates prepared from 29 different pomegranate accessions. J Agric Food Chem 2007; 55:9559–70.
Schubert SY, Lansky EP, Neeman I. Antioxidant and eicosanoid enzyme inhibition properties of pomegranate seed oil and fermented juice flavonoids. J Ethnopharmacol 1999; 66:11-17.
F. Afaq, A. Malik, D. Syed, D. Maes, M. S. Matsui, H. Mukhtar. "Pomegranate fruit extract modulates UVBmediated phosphorylation ofmitogen-activated protein kinases and activation of nuclear factor appa B in normal human epidermal keratinocytes," Photochemistry and Photobiology 2005; 81(1): 38–45.
L. S. Adams, N. P. Seeram, B. B. Aggarwal, Y. Takada, D. Sand, D. Heber. "Pomegranate juice, total pomegranate ellagitannins, and punicalagin suppress inflammatory cell signaling in colon cancer cells," Journal of Agricultural and Food Chemistry 2006; 54(3): 980–985.
S.Koyama, L. J. Cobb, H. H. Mehta. "Pomegranate extract induces apoptosis in human prostate cancer cells bymodulation of the IGF-IGFBP axis," Growth hormone and IGF Research 2010; 20 (1):55–62.
Lansky EP, Jiang W, Mo H, Bravo L, Froom P, Yu W, Harris NM, Neeman I, Campbell MJ. Possible synergistic prostate cancer suppression by anatomically discrete pomegranate fractions. Invest New Drugs 2005; 23:11– 20.
Amy B. Howell, Doris H. D'Souza. The Pomegranate: Effects on Bacteria and Viruses That Influence Human Health. Evidence-Based Complementary and Alternative Medicine. 2013;1-11.
Charuta Sadanand Dabholkar, Mona Shah, Rahul Kathariya, Monika Bajaj, Yogesh Doshi. Comparative Evaluation of Antimicrobial Activity of PomegranateContaining Mouth wash against Oral-Biofilm Forming Organisms: An Invitro Microbial Study. J ClinDiagn Res. 2016; 10(3): ZC65–ZC69.
S. J. Bhadbhade, A. B. Acharya, S. V. Rodrigues, S. L. Thakur, "The antiplaque efficacy of pomegranate mouthrinse," Quintessence International 2011; 42(1):29–36.
S. M. S. Menezes, L. N. Cordeiro, G. S. B. Viana. "Punicagranatum (pomegranate) extract is active against dental plaque," Journal of Herbal Pharmacotherapy 2006;6(2):79–92
Dilshad Umar, BahijaDilshad, Mohammed Farhan, Arshiya Ali, Kusai Baroudi. The effect of pomegranate mouthrinse on Streptococcus mutans count and salivary pH: An in vivo study. J Adv Pharm Technol Res 2016; 7(1): 13–16.
G. J. Kotwal, "Genetic diversity-independent neutralization of pandemic viruses (e.g. HIV), potentially pandemic (e.g. H5N1 strain of influenza) and carcinogenic (e.g. HBV and HCV) viruses and possible agents of bioterrorism (variola) by enveloped virus neutralizing compounds (EVNCs)," Vaccine 2008; 26(24):3055–3058.
S. G. Kasimsetty, D. Bialonska, M. K. Reddy, C. Thornton, K. L. Willett, D. Ferreira. Effects of pomegranate chemical constituents/intestinal microbial metabolites on CYP1B1 in 22Rv1 prostate cancer cells. Journal of Agricultural and Food Chemistry 2009; 57(22):10636–10644.
S.M. Lipson, P. Cohen, J. Zhou, A. Burdowski, G. Stotzky. "Cranberry cocktail juice, cranberry concentrates, and proanthocyanidins reduce reovirus infectivity titers in African green monkey kidney epithelial cell cultures,"Molecular Nutrition and Food Research 2007; 51(6): 752–758.
Simone R Foss, Celso V Nakamura, Tania UedaNakamura, Diógenes AG Cortez, Eliana H Endo, Benedito P Dias Filho Antifungal activity of pomegranate peel extract and isolated compound punicalagin against dermatophytes. Ann ClinMicrobiol Antimicrob 2014; 13: 32.
Paula Cristina Aniball,Iza Teixeira AlvesPeixoto, Mary Ann Foglioll, José Francisco Höfling. Antifungal activity of the ethanolic extracts of Punicagranatum L and evaluation of the morphological and structural modifications of its compounds upon the cells of Candida spp. Braz J Microbiol 2013; 44(3): 839-848.
Bagri P, Ali M, Aeri V, Bhowmik M, Sultana S. Antidiabetic effect of Punicagranatum flowers: Effect on hyperlipidemia, pancreatic cells lipid peroxidation and antioxidant enzymes in experimental diabetes. Food and Chemical Toxicology 2009; 47: 50–54.
M. Aviram, M. Rosenblat, D. Gaitini, Nitecki S, Hoffman A, Dornfeld L, Volkova N, Presser D, Attias J, Liker H, Hayek T. "Pomegranate juice consumption for 3 years by patients with carotid artery stenosis reduces common carotid intima-media thickness, blood pressure and LDL oxidation," Clinical Nutrition 2004; 23 (3):423–433.
A. Esmaillzadeh, F. Tahbaz, I. Gaieni, H. Alavi-Majd, L. Azadbakht, "Cholesterol-lowering effect of concentrated pomegranate juice consumption in type II diabetic patients with hyperlipidemia," International Journal for Vitamin and Nutrition Research 2006 ; 76( 3): 147–151.
M. Aviram, N. Volkova, R. Coleman, Dreher M, Reddy MK, Ferreira D, Rosenblat M. "Pomegranate phenolics from the peels, arils, and flowers are antiatherogenic: studies in vivo in atherosclerotic apolipoprotein Edeficient (E∘) mice and in vitro in cultured macrophages and lipoproteins," Journal of Agricultural and Food Chemistry 2008; 56(3): 1148–1157.
Fuhrman B, Volkova N, Aviran M. Pomegranate juice oxidized LDL uptake and cholesterol biosynthesis in macrophages. J NutrBiochem 2005; 16:570–6.
De Nigris F, Williams-Ignarro S, Botti C, Sica V, Ignarro LJ, Napoli C. Pomegranate juice reduces oxidized lowdensity lipoprotein downregulation of endothelial nitric oxide synthase in human coronary endothelial cells. Nitric Oxide 2006; 15(3):259–63.
Ignarro LJ, Byrns RE, Sumi D, de Nigris F, Napoli C. Pomegranate juice protects nitric oxide against oxidative destruction and enhances the biological actions of nitric oxide. Nitric Oxide 2006; 5:93–102.
Widmer R, Ziaja I, Grune T. Protein oxidation and degradation during aging: Role in skin aging and neurodegeneration. Free Radical Res 2006; 40(12):1259–68.
Aslam MN, Lansky EP, Varani J.Pomegranate as a cosmeceutical source: Pomegranate fractions promote proliferation and procollagen synthesis and inhibit matrix metalloproteinase-1 production in human skin cells. J Ethnopharmacol 2006 103:311–8.
Yoshimura M, Watanabe Y, Kasai K, Yamakoshi J, Koga T. Inhibitory effect of an ellagic acid-rich pomegranate extracts on tyrosinase activity and ultraviolet-induced pigmentation. Biosci Biotechnol Biochem 2005; 69(12):2368–73.
Afaq F, Zaid MA, Khan N, Dreher M, Mukhtar H. Protective effect of pomegranate-derived products on UVB-mediated damage in human reconstituted skin. ExpDermatol 2009; 18(6):553–61.
Syed DN, Malik A, Hadi N, Sarfaraz S, Afaq F, Mukhtar H. Photo-chemopreventive effect of pomegranate fruit extract on UVA-mediated activation of cellular pathways in normal human epidermal keratinocytes. PhotochemPhotobiol 2006. 82(2):398–405.
Sastravaha G, Gassmann G, Sangtherapitikul P. Adjunctive periodontal treatment with Centella asiatica and Punicagranatum extracts in supportive periodontal therapy. J IntAcadPeriodontol. 2005; 7(3):70–9.
Trivedi VB, Kazmi SM. Kachnar and anar as antibacterial drugs. Ind Drugs 1979; 16:295–8.
Machado TB, Pinto MCFR, Leal ICR, et al. In vitro activity of Brazilian medicinal plants, naturally occurring naphtha quinones and their analogues, against methicillin resistant staphylococcus aureus. Int J Antimicrob Agents 2003; 21:279–84.
Menezes SM, Cordeiro LN, Viana GS. Punicagranatum (pomegranate) extract is active against dental plaque. J Herb Pharmacother 2006; 6(2): 79–92.
R. A. DiSilvestro, D. J. DiSilvestro, and D. J. DiSilvestro, "Pomegranate extract mouth rinsing effects on saliva measures relevant to gingivitis risk," Phytotherapy Research 2009;23(8):1123–1127.
Werkman C, Granato DC, Kerbauy WD, Sampaio FC, Brandão AAH, Rode SM. Aplicaçõesterapêuticas da Punicagranatum L. (romã). Rev Bras Plantas Med 2008; 10:104-11.
A. Somu, S. Ravindra, S. Ajith et al. "Efficacy of a herbal extract gel in the treatment of gingivitis: a clinical study. Journal of Ayurveda and IntegrativeMedicine 2012; 3(2): 85–90.
Badria FA, ZidanOA. Natural products for dental caries prevention. J Med Food 2004. 7:381–4. 55. Nomura Y, Tamaki Y, Tanaka T, Arakawa H, Tsurumoto A, Kirimura K, Sato T, Hanada N, Kamoi K. Screening of periodontitis with salivary enzyme tests. J Oral Sci 2006; 48:177–83.
Panzarini SR, Gulinelli JL, Poi WR, Son-oda CK, Pedrini D, Brandini DA. Treatment of root surface in delayed tooth replantation: a review of literature. Dent Traumatol 2008; 24:277-82.
Buttke TM, Trope M. Effect of catalase supplementation in storage media for avulsed teeth. Dent Traumatol 2003; 19:103-8. 58. Seeram NP, Adams LS, Henning SM, Niu Y, Nair MG, Heber D. In vitro antiproliferative, apoptotic and antioxidant activities of punicalagin, ellagic acid and a total pomegranate tannin extract are enhanced in combi-nation with other polyphenols as found in pomegranate. J NutriBiochem 2005;16:360-367
Thring Tamsyn SA, Hili p, Naughton DP. Anticollagenase, anti-elastase and anti-oxidant activities of extracts from 21 plants. BMC Complement Altern Med 2009; 9:27.
Kwak HM, Joen SY, Sohng BH, Kim JG, Lee JM, Lee KB, et al. β - Secretase (BACE1) inhibitors from pomegranate (Punicagranatum) husk. Arch Pharm Res 2005; 28:1328-32.
Sara Tavassoli- Hojjati, Elham Alisghar, Fatemrh Ahmadian Babaki, Fatemeh Emadi, Maliheh Parsa, ShohrehTavajohi, Maryam Ahmadyar, Syed Nasser Ostad. Journal of dentistry. Tehran university of medical sciences 2014; 11(2):225-232.
E. A. Hayouni, K. Miled, S. Boubaker, Z.Bellasfar, M.Abedrabba, H.Iwaski, H.Oku, T.Matsui, F.Limam, M.Hamdi. "Hydroalcoholic extract based-ointment from Punicagranatum L. peels with enhanced in vivo healing potential on dermal wounds," Phytomedicine, 2011;18(11):976–984.
B. Cerdá, J. J. Cerón, F. A. Tomás-Barberán,J. C. Espín, "Repeated oral administration of high doses of the pomegranate ellagitanninpunicalagin to rats for 37 days is not toxic," Journal of Agricultural and Food Chemistry 2003; 51(11): 3493–3501.
Ana LuziaAraújo Batista, Ruthineia Diógenes Alves Uchôa Lins, Renata de Souza Coelho, Danielle do Nascimento Barbosa, Nayara Moura Belém, FrayniJosley Alves Celestino. Clinical efficacy analysis of the mouth rinsing with pomegranate and chamomile plant extracts in the gingival bleeding reduction. Complementary Therapies in Clinical Practice 20 (2014).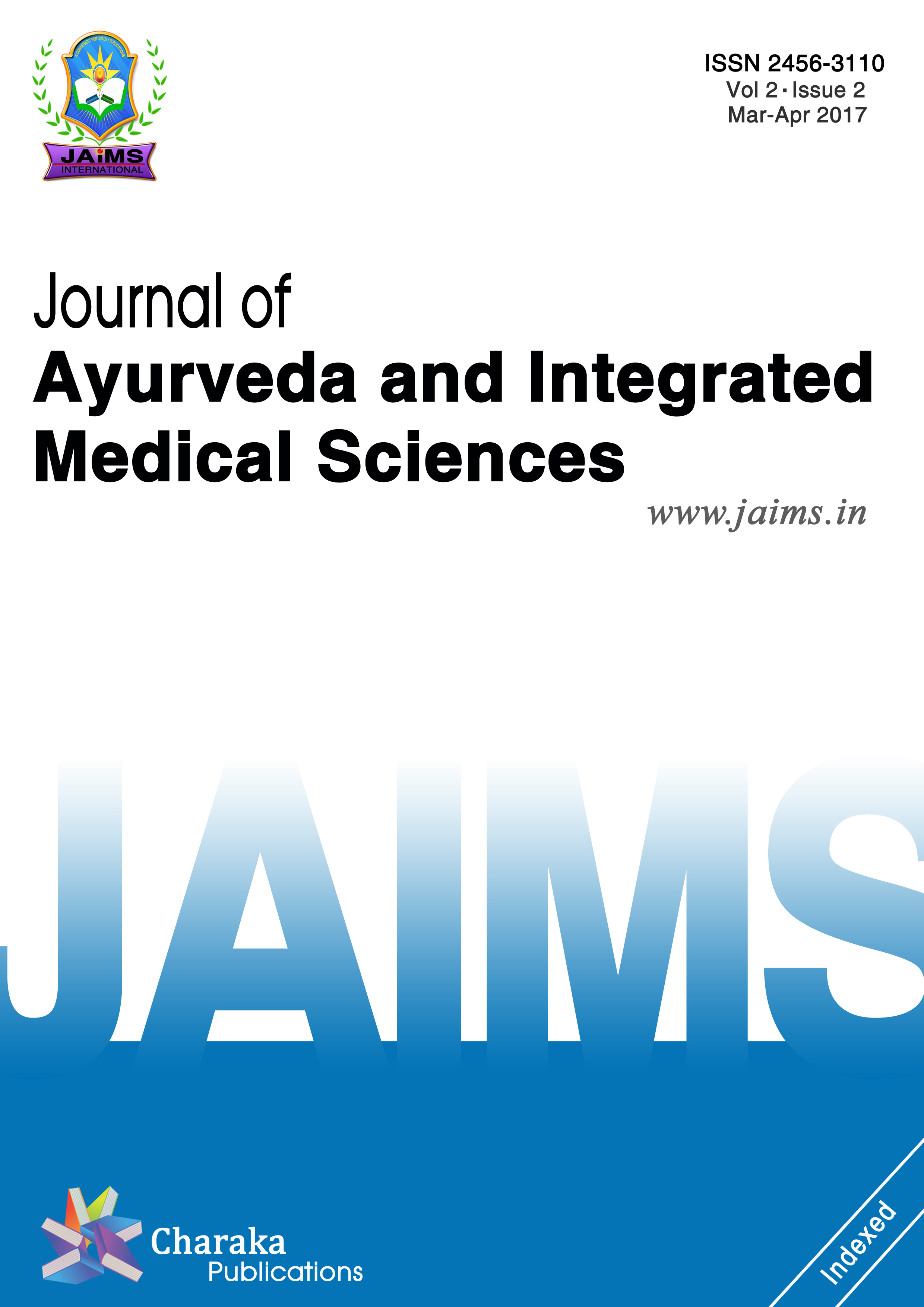 How to Cite
Dr. Priyadharshini K, Nandan N, Sunil Raj, Kumar NC, Pooja BL, & Manjushree R. (2017). Punica Granatum L - A Nutraceutical functional food. Journal of Ayurveda and Integrated Medical Sciences, 2(02), 122-132. Retrieved from https://www.jaims.in/jaims/article/view/153
Journal of Ayurveda and Integrated Medical Sciences (JAIMS) retains the copyright of the contents of this journal but grant the readers the right to use the contents with terms and conditions under a creative common attribution licenses 4 of Attribution, Share Alike and Non-commercial type (CC BY-NC-SA) that allows copy, distribute, display, and perform the work and make derivative works based on it only for non-commercial purposes.

This work is licensed under a Creative Commons Attribution-NonCommercial-ShareAlike 4.0 International License.