Brahmi (Bacopa monnieri) : a mental illness drug
Pooja Singh

Post Graduate Scholar, P.G. Department of Agad Tantra, Uttrakhand Ayurveda University, Rishikul Campus, Haridwar, Uttrakhand, India.

Vasu Singh

Post Graduate Scholar, Dept. of Samhita and Siddhanta, State Ayurvedic College, Lucknow, Uttar Pradesh, India.

R.C Tiwari

HOD and Professor, P.G. Department of Agad Tantra, Uttrakhand Ayurveda University, Rishikul Campus, Haridwar, Uttrakhand, India.
Keywords:
Ayurveda, Yendri, Medhya Rasayana, Dravyaguna Vigyana, Manas, Sarir.
Abstract
Ayurveda is the life science and practice that involve the care of the human being's physical, mental, and spiritual health. The term "Ayu" is defined as- "Sharir Indriya Satva Atma Sanyogo Dhari Jeevtam (Charak). According to Acharaya Charaka the individuality of Manas and Sarira is inseparable and interdependent. The paragon of the beauty of Ayurveda is that it always emphasizes prevention over cure. Yendri (Bacopa monnieri Linn). Mentioned as Medhya by Priyavrat Sharma in his book Dravyagun Vigyana. Nowadays, the use of herbal drugs for the treatment of various diseases is developing worldwide. Psychiatric and neurological disorders are generally associated with memory loss, cognitive deficits, impaired mental function, etc. Due to the multi-factorial nature of these diseases, psychoactive drugs of modern medicine have achieved restricted success. Therefore, there is an extended stipulation for novel products that could target multiple pathways and improve mental capabilities. According to "Ayurveda," the Indian traditional medicine system, "Medhya Rasayana" presents herbal therapeutics that restores cognitive deficits, boost memory, and improve mental functions. The current review emphasizes the components and application of such type of herbal medication.
Downloads
Download data is not yet available.
References
The Ayurvedic Pharmacopoeia of India. Part 1. 1st ed., Vol. II. New Delhi: Government of India; Ministry of Health and Family Welfare, Department of Indian Systems of Medicine and Homoeopathy; 1999. p. 25-6.
Nadakarni AK. Dr. K. M Nadakarni's, Indian MateriaMedica. Bomaby: Popular Prakashan; 1976. p. 579.
Khare CP. Indian Medicinal Plants an Illustrated Dictionary. New Delhi: Springer; 2007. p. 77.
Gamble JS. Flora of the Presidency of Madras. Vol. II. Calcutta: Botanical Survey of India; 1925. p. 556.
Wallis TE. Textbook of Pharmacognosy. New Delhi: CBS Publishers and Distributors; 1985. p. 572.
Indian Drug Manufacturers' Association. Indian Herbal Pharmacopoeia. Vol. I. Mumbai, Jammu Tawi: Indian Drug Manufacturers' Association, Regional Research Laboratory (CS1R); 1998. p. 30-2
Datta SC, Mukerji B. Pharmacognosy of Indian Leaf Drugs. Bull No. 2. Calcutta: Ministry of Health, Government of India; 1952. p. 62. 8. Aiyer KN, Kolammal M. Pharmacognosy of Ayurvedic Drugs. Series 1, No.
Trivandrum: Department of Pharmacognosy, University of Kerala; 1964. p. 27-9.
WHO. Quality Control Methods for Medicinal Plant Materials. Geneva: WHO; 1998. p. 16-27.
Singh J. Studies on distinguishing characters of plant species used as 'Brahmi'. Nagarjun 1988;23:153-6.
Shanmugasundaram ER, Akbar GK, Shanmugasundaram KR. Brahmighritham, an Ayurvedic herbal formula for the control of epilepsy. J Ethnopharmacol 1991;33(3):269-76.
Warrier PK, Nambiar VPK, Ramankutty C. Indian Medicinal Plants. Vol. 1. New Delhi: Orient Longman Private Ltd; 1994. p. 235.
Evans WC. Trease and Evans Pharmacognosy. London: BailliereTindall; 1989. p. 530.
O'Brien TP, Feder N, McCull ME. Polychromatic staining of plant cell.
Charaka, Charaka Samhita, Chikitsa Sthana. Varanasi: Chaukhamba Sanskrit Series; 2002. p. 385.
Singh HK, Shanker G, Patnaik GK. Neuropharmacological and antistress effects of bacosides: A memory enhancer. Indian J Pharmacol 1996;28:47.
Dar A, Channa S. Calcium antagonistic activity of Bacopamonniera on vascular and intestinal smooth muscles of rabbit and guinea-pig. J Ethnopharmacol 1999;66(2):167-74.
Bhattacharya SK, Ghosal S. Anxiolytic activity of a standardized extract of Bacopamonniera: An experimental study. Phytomedicine 1998;5(2):77-82.
Shader RI, Greenblatt DJ. Pharmacotherapy of acute anxiety. In: Bloom FE, Kupfer DJ, editors. Psycopharmacology: Fourth Generation of Progress. New York: Raven Press; 1995. p. 1341-8.
Abhang R. Study to evaluate the effect of a micro (Suksma) derived from Brahmi (Herpestis monnierra) on students of average intelligence. J Res Ayurveda Siddha 1993;14(1-2):10-24.
Bhakuni DS, Dhar ML, Dhar MM, Dhawan BN, Mehrotra BN. Screening of Indian plants for biological activity. II. Indian J ExpBiol 1969;7(4):250-62.
Rao CV, Sairam K, Goel RK. Experimental evaluation of Bocopamonniera on rat gastric ulceration and secretion. Indian J PhysiolPharmacol 2000;44(4):435-41.
Govindarajan R, Vijayakumar M, Pushpangadan P. Antioxidant approach to disease management and the role of 'Rasayana' herbs of Ayurveda. J Ethnopharmacol 2005;99(2):165-78.
Chowdhuri DK, Parmar D, Kakkar P, Shukla R, Seth PK, Srimal RC. Antistress effects of bacosides of Bacopamonnieri: Modulation of Hsp70 expression, superoxide dismutase and cytochrome P450 activity in rat brain. Phytother Res 2002;16(7):639-45.
Tripathi YB, Chaurasia S, Tripathi E, Upadhyay A, Dubey GP. Bacopamonniera Linn. As an antioxidant: Mechanism of action. Indian J ExpBiol 1996;34(6):523-6.
Singh RH, Singh L. Studies on the anti-anxiety effect of the MedyhaRasayana drug, brahmi (Bacopa monniera Wettst.) – Part 1. J Res Ayurveda Siddha 1980;1:133-48.
Kar A, Panda S, Bharti S. Relative efficacy of three medicinal plant extracts in the alteration of thyroid hormone concentrations in male mice. J Ethnopharmacol 2002;81(1):281-5.
Yadav SK, Jain AK, Tripathi SN, Gupta JP. Irritable bowel syndrome: Therapeutic evaluation of indigenous drugs. Indian J Med Res 1989;90:496-503.
Sivaranjan VV, Balachandran I. Ayurvedic Drugs and Their Plant Sources. New Delhi: Published by Oxford & IBH Publishing Co., Pvt., Ltd.; 1994. p. 289.
Jain PK. Alternative herbal drugs used for treating hair disease. Asian J Pharm Clin Res 2016;9(1):75-7.
Jain PK, Dass DJ. Evaluating hair growth potential of some traditional herbs. Asian J Pharm Clin Res 2015;8(6):150-2.
Jain PK, Joshi H, Dass DJ. Drug that causes hair loss and promotes hair growth - A review. Int J Res Pharm Biomed Sci 2012;3(4):1476-82.
Joshi BB, Patel MG, Dabhi B, Mistry KN. In vitro phytochemical analysis and anti-microbial activity of crude extract of Bacopa monniera. Bull Pharm Med Sci (Bopams) 2013;1(2):128-31.
Dharmani P, Palit G. Exploring Indian medicinal plants for antiulcer activity. Indian J Pharmacol 2006;38(2):95-9.
Goel RK, Sairam K. Anti ulcer drugs from indigenous sources with emphasis on Musa sapientum, tamrabhasma, Asparagus racemosus and Zinzibarofficinale. Indian J Pharmacol 2002;34:100-10.
Sairam K, Rao CV, Babu MD, Goel RK. Prophylactic and curative effects of Bacopamonniera in gastric ulcer models. Phytomedicine 2001;8(6):423-30.
Sumathy T, Govindasamy S, Balakrishna K, Veluchamy G. Protective role of Bacopamonniera on morphine-induced brain mitochondrial enzyme activity in rats. Fitoterapia 2002;73(5):381-5.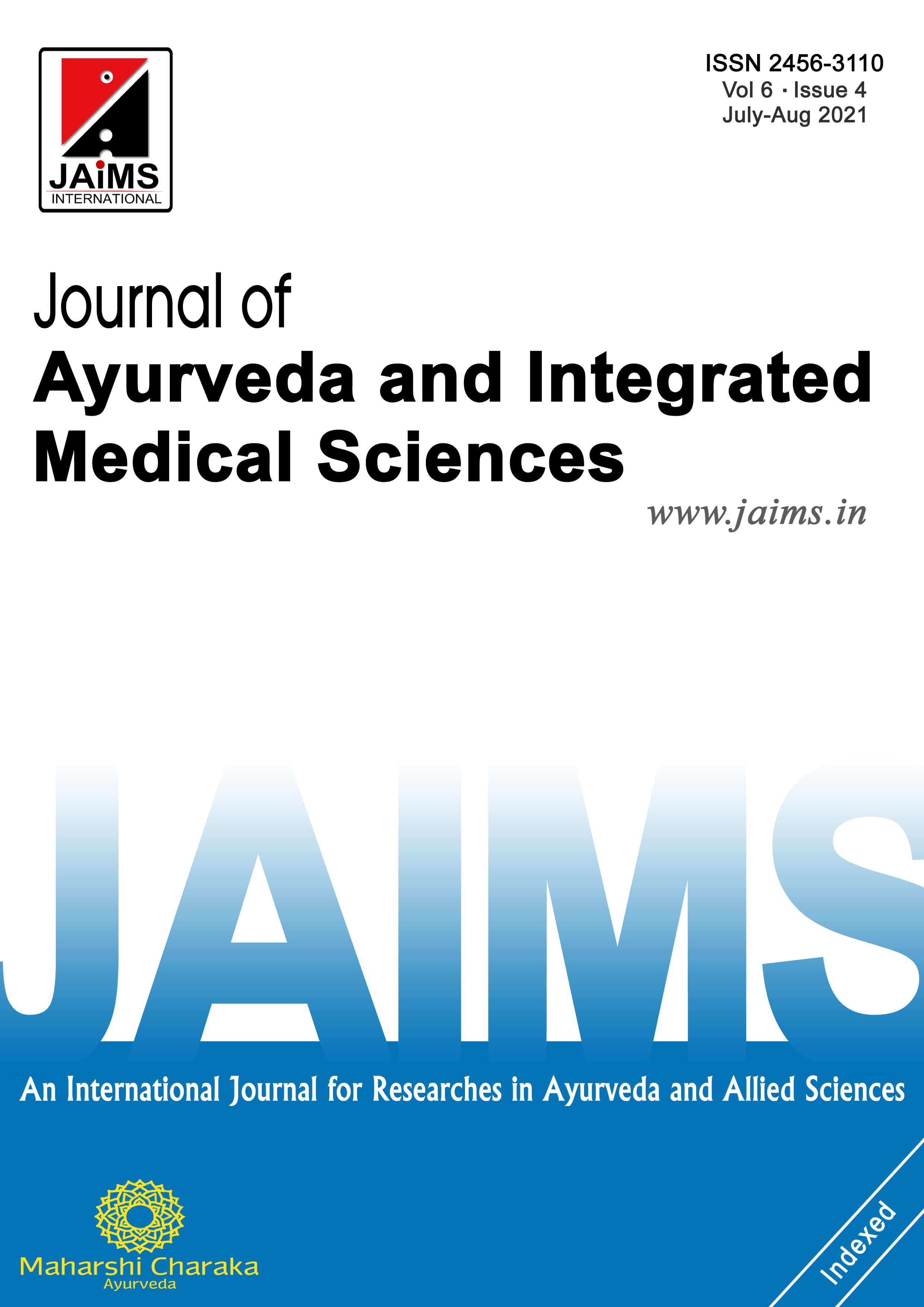 How to Cite
Pooja Singh, Vasu Singh, & R.C Tiwari. (2021). Brahmi (Bacopa monnieri) : a mental illness drug. Journal of Ayurveda and Integrated Medical Sciences, 6(4), 312 - 321. Retrieved from https://www.jaims.in/jaims/article/view/1430
Copyright (c) 2021 Pooja Singh, Vasu Singh, R.C Tiwari
This work is licensed under a Creative Commons Attribution-NonCommercial-ShareAlike 4.0 International License.
Journal of Ayurveda and Integrated Medical Sciences (JAIMS) retains the copyright of the contents of this journal but grant the readers the right to use the contents with terms and conditions under a creative common attribution licenses 4 of Attribution, Share Alike and Non-commercial type (CC BY-NC-SA) that allows copy, distribute, display, and perform the work and make derivative works based on it only for non-commercial purposes.

This work is licensed under a Creative Commons Attribution-NonCommercial-ShareAlike 4.0 International License.