The Impact of Short-term Integrated Yoga practice on Psychological wellbeing in special educators of individual with special needs
Dr. Vijayakumar PS

Associate Professor, Department of Astanga Yoga, Lakulish Yoga University, Chharodi, Ahmedabad, Gujarat, INDIA.

Sahana AU

Clinical Psychologist, Department of Astanga Yoga, Lakulish Yoga University, Chharodi, Ahmedabad, Gujarat, INDIA.

Anusha Rajanna

Research Scholar, S-VYASA University, Bangalore, Karnataka, INDIA.
Keywords:
Integrated yoga, BAI, BDI-II, PSS, Special educators
Abstract
Background: Special educators face unprecedented work conditions and expectations that affect their psychological wellbeing and professional outcome as well. This study examines the growing evidence that even a short-term Integrated yoga practice enhance psychological wellbeing among special educators by reducing their stress, anxiety and depression levels. Materials and Methods: Special educators were recruited based on inclusion and exclusion criteria (n=20) age ranging between 25-50 years (Mean35±6.3) for a single group interventional pre-post study design: Integrated yoga module (included postures, breathing practices, relaxation and mediation) was given for a period of 8 weeks. The subjects were assessed on day 1 pre and post intervention on day 60 on perceived stress scale (PSS), Beck's depression inventory (BDI-II) and Beck's Anxiety Inventory (BAI). Results: After 8 weeks of Integrated yoga practice there was asignificant reduction in anxiety scores (P < 0.000), depression scores (P < 0.000) and perceived stress levels (P < 0.000) respectively compared to baseline by wilcoxon signed rank test. Conclusions: The results of this study suggest that even a short-term integrated yoga intervention that can enhance psychological wellbeing of the special educators.
Downloads
Download data is not yet available.
References
National Research Council. Educating children with autism. Washington, DC: National Academy Press; 2001.
Wisniewski JF, Gargiulo RM. Occupational stress and burnout among special educators: A review of the literature. Journal of Special Education. 1997;31:325– 346.
Billingsley BS. Special education teacher retention and attrition: A critical analysis of the literature (COPSSE Document No. RS-2). Gainesville, FL: University of Florida, Center on Personnel Studies in Special Education; 2003.
Johnson A, Gold V, & Vickers L,arded. Psychology in the Schools. 1982;19(4), 552-557.
Kokkinos CM, Davazoglou AM. Special educatio teachers under stress: Evidence from a Greek national study. Educational Psychology. 2009;29:407–424.
Abel MH, Sewell J. Stress and burnout in rural and urban secondary school teachers. Journal of Educational Research. 1999;92:287–293.
Hurrell JJ, Jr., Nelson DL, Simmons BL. Measuring job stressors and strains: Where we have been, where we are, and where we need to go. Journal of Occupational Health Psychology. 1998;3:368–389.
Lavey R, Sherman T, Mueser KT, Osborne DD, Currier M, Wolfe R. The effects of yoga on mood in psychiatric inpatients. Psychiatr Rehabil J 2005;28:399-402.
Nagarathna R, Nagendra HR. Integrated Approach of Yoga Therapy for Positive Health. 2nd ed. Bangalore: Swami Vivekananda Yoga Prakashan; 2013.
Cohen S, Kamarck T, Mermelstein R. Perceived Stress Scale. Measuring Stress: A Guide for Health and Social Scientists. New York: Oxford University Press; 1994.
Beck AT, Epstein N, Brown G, & Steer RA. An inventory for measuring clinical anxiety: Psychometric properties. Journal of Consulting and Clinical Psychology. 1988; 56, 893-897.
Beck AT, Steer RA, Ball R, & Ranieri W. "Comparison of Beck Depression Inventories -IA and -II in psychiatric outpatients". Journal of Personality Assessment. 1966; 67 (3), 588–97.
West J, Otte C, Geher K, Johnson J, Mohr DC. Effects of hatha yoga and African dance on perceived stress, affect, and salivary cortisol. Ann Behav Med 2004;28:114-8.
Sulekha S, Thennarasu K, Vedamurthachar A, Raju TR, Kutty BM. Evaluation of sleep architecture in practitioners of Sudarshan Kriya yoga and Vipassana meditation. Sleep Biol Rhythms 2006;4:207-14.
Sovik R. The science of breathing – the yogic view. Prog. Brain Res. 1999;122: 491–505.
Telles S, Singh N. Science of the mind: ancient yoga texts and modern studies. Psychiatr. Clin. N. Am. 2013; 36 :93–108.
Ross A, Thomas S. The health benefits of yoga and exercise: A review of comparison studies. J Altern Complement Med 2010;16:3-12.
Raghuraj P, Ramakrishnan AG, Nagendra HR, Telles S Effect of two selected yogic breathing techniques of heart rate variability. Indian J Physiol Pharmacol 1998;42:467-72.
Woolery A, Myers H, Sternlieb B, Zeltzer L. A yoga intervention for young adults with elevated symptoms of depression. Altern Ther Health Med. 2004;10:60–3.
Michalsen A, Grossman P, Acil A, Langhorst J, Ludtke R, Esch T, et al. Rapid stress reduction and anxiolysis among distressed women as a consequence of a threemonth intensive yoga program. Med Sci Monit. 2005;11:CR555–61.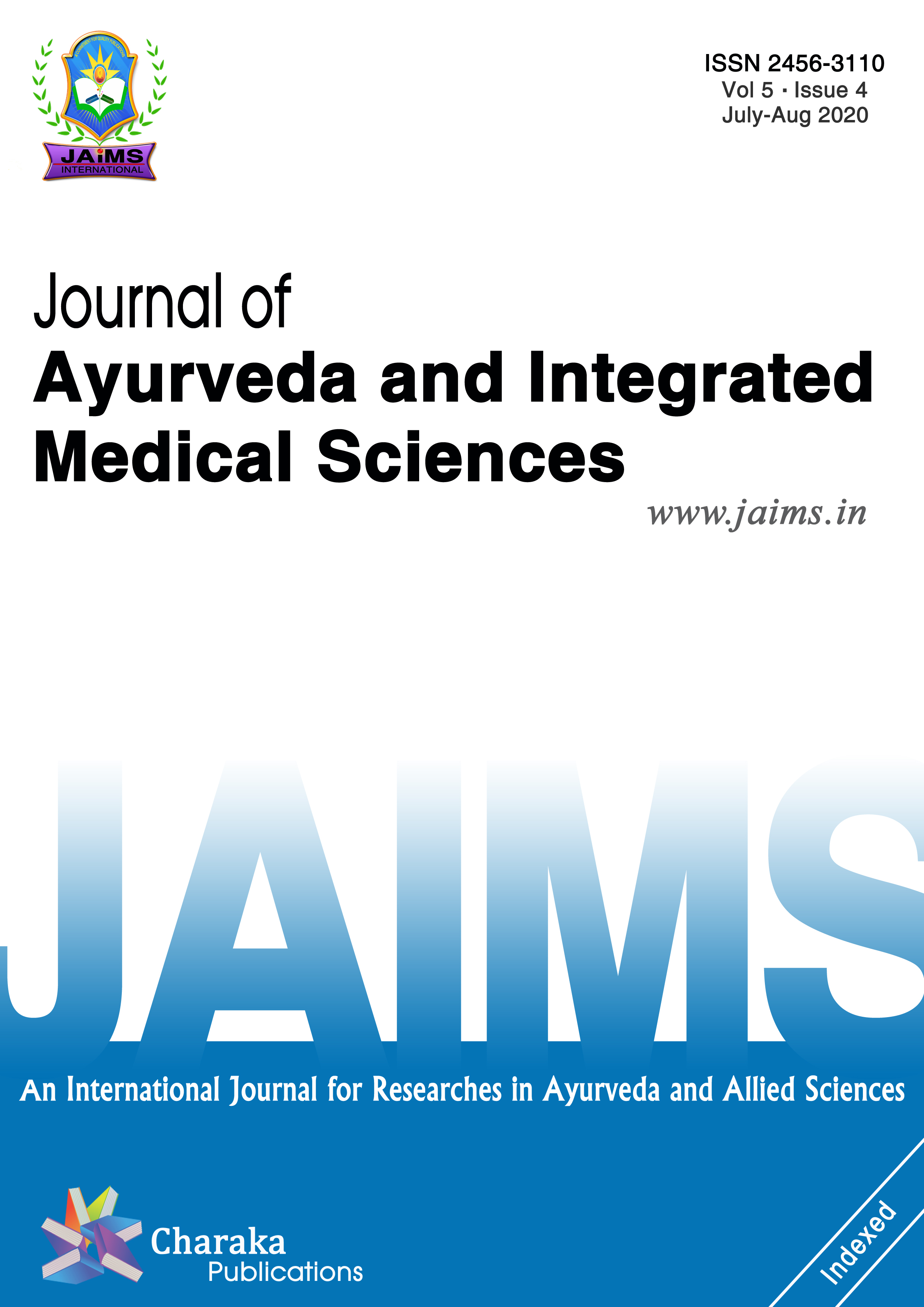 How to Cite
Dr. Vijayakumar PS, Sahana AU, & Anusha Rajanna. (2020). The Impact of Short-term Integrated Yoga practice on Psychological wellbeing in special educators of individual with special needs. Journal of Ayurveda and Integrated Medical Sciences, 5(04), 68-72. Retrieved from https://www.jaims.in/jaims/article/view/947
Journal of Ayurveda and Integrated Medical Sciences (JAIMS) retains the copyright of the contents of this journal but grant the readers the right to use the contents with terms and conditions under a creative common attribution licenses 4 of Attribution, Share Alike and Non-commercial type (CC BY-NC-SA) that allows copy, distribute, display, and perform the work and make derivative works based on it only for non-commercial purposes.

This work is licensed under a Creative Commons Attribution-NonCommercial-ShareAlike 4.0 International License.