A review on Lead Poisoning and its Ayurveda management prospective
Dr. Ritu

Post Graduate Scholar, Dept. of Agadtantra evam Vyavhar Ayurveda, V.Y.D.S. Ayurveda Mahavidyalaya, Khurja, Uttarpradesh, INDIA.

Dr. Akhilesh Kumar Singh

Professor, Dept. of Agadtantra evam Vyavhar Ayurveda, V.Y.D.S. Ayurveda Mahavidyalaya, Khurja, Uttarpradesh, INDIA.
Keywords:
Lead poisoning, Nidan Parivarjan, Samshodhan Chikitsa, Prativisha
Abstract
Ayurvedic medicine is a traditional system of Medicine and originated from India. There is tremendous use of Ayurvedic medicines now increasing in many areas of the world for various elements in adults as well as children. This system uses of natural herbs - based medicines and minerals including Mercury (Parad), Sulphur (Gandhak), Arsenic, Lead, Copper and Gold are often added to formulations with proper Shodhan and Maran (Purifications) as these are the essential components within the human body. However, impurities in purification or excess quantity in medicine can exposure to lead poisoning and can damage the brain, kidneys and nervous and reproductive systems. Lead is a natural element that is determined in water and soil. Human exposure occurs primarily through diet, air, drinking water and ingestion of paint through droplets in air and sometime thorough medicine. Chronic exposure to lead can adversely affect neuro development, decrease fetal growth, and increase the risk for premature birth and miscarriage. However, lead poisoning can also happen from Lead-based paint and lead-contaminated dust in older buildings, Other sources include contaminated air, water and soil. According to Ayurveda, Nidan Parivarjan, Samshodhan Chikitsa (Purification procedure), Purgation or both able to excrete the Dushi Visha from human body by means of purification, Vamana ( Induced Emesis) Virechana (Induced Purgation) along with Prativisha Chikitsa is specially indicated for management of poison.
Downloads
Download data is not yet available.
References
Subhose V, Srinivas P, Narayana A Bull Indian Inst Hist Med Hyderabad. 2005 Jul-Dec; 35(2):83-92.
Sushruta, Sushruta Samhita, Edited by Kaviraj Ambikadutta Shastri, Published by Chaukhambha Sanskrit Sansthan, Varanasi, 8th Edition.2001.142
Thatte, U.M., Rege, N.N., Phatak, S.D. and Dahanukar, S.A. (1993) 'The flip side of Ayurveda', Journal of Postgraduate Medicine, Vol. 39, pp.179–182.
Chopra, A. and Doiphode, V.V. (2002) 'Ayurvedic medicine. Core concept, therapeutic principles, and current relevance', Medical Clinics of North America, Vol. 86, pp.75–89.
Gogtay, N.J., Bhatt, H.A., Dalvi, S.S. and Kshirsagar, N.A. (2002) 'The use and safety of nonallopathic Indian Medicines', Drug Safety, Vol. 25, pp.1005–1019.
Reza Mehrandish, Aliasghar Rahimian, Alireza Shahriary. Heavy metals detoxification: A review of herbal compounds for chelation therapy in heavy metals toxicity, J Herbmed Pharmacol. 2019; 8(2): 69- 77.
Ballabh B, Chaurasia OP. Traditional medicinal plants of cold desert Ladakh-Used in treatment of cold, cough and fever. Journal of Ethnopharmacology. 2007; 112(2):341–345.
Eisenberg DM, Davis RB, Ettner SL, Appel S, Wilkey S, Van Rompay M, et al. Trends in alternative medicine use in the United States, 1990-1997: results of a followup national survey. JAMA. 1998;280(18):1569–75.
National Center for Complementary and Alternative Medicine (NCCAM). Complementary, Alternative or Integrative Health. NCCAM Pub No D347; 2007.Available from: http://nccam.nih.gov/health/whatiscam
https://economictimes.indiatimes.com/industry/health care/biotech/healthcare/77-percent-indianhouseholds-use-ayurvedic-products-pwcreport/articleshow/66773295.cms?from=mdr [cited on 23.6.2020]
Van Schalkwyk J, Davidson J, Palmer B, Hope V. Ayurvedic medicine: patients in peril from plumbism. N Z Med J. 2006;119(1233):U1958.
Thatte UM, Rege NN, Phatak SD, Dahanukar SA. The flip side of Ayurveda. J Postgrad Med. 1993;39(4):179– 82. 16 Saper RB, Kales SN, Paquin J, Burns MJ, Eisenberg DM,
Davis RB, et al. Heavy metal content of Ayurvedic herbal medicine products. JAMA. 2004;292(23):2868– 73.
Raviraja A, Vishal Babu GN, Sehgal A, Saper RB, Jayawardene I, Amarasiriwardena CJ, et al. Three cases of lead toxicity associated with consumption of Ayurvedic medicines.
Dr CK Parikh. Parikh's textbook of medical jurisprudence, forensic medicine and toxicology. 6th edition Reprint 2006; sec-ix,9. Pp 199.22
Indian J Clin Biochem. 2010;25(3):326–9. 12 Karri SK, Saper RB, Kales SN. Lead encephalopathy due to traditional medicines. Curr Drug Saf. 2008;3(1):54–9.
Gunturu et al.: Ayurvedic herbal medicine and lead poisoning. Journal of Hematology & Oncology 2011 4:51.
Flora SJ, Mittal M, Mehta A: Heavy metal induced oxidative stress & its possible reversal by chelation therapy. Indian J Med Res 2008, 128:501-523.
Saper RB, Phillips RS, Sehgal A, Khouri N, Davis RB, Paquin J, Thuppil V, Kales SN: Lead, mercury, and arsenic in US- and Indian-manufactured Ayurvedic medicines sold via the Internet. JAMA 2008, 300:915- 923.
Nosratola D Vaziri. Mechanism of lead- induced hypertension and cardiovascular disease. Am J Physiol. Heart Circ Physiol.2008;295:H454-H4
Aacharya Sushruta, Susruta Samhita, Edited by Ambikadatta Shastri, Chikitsasthan 40/45 Edition Reprint 2012, Varanasi, Chaukhambha Sanskrut Samsthana:389.
Prasad P.V.N.R, Illustrated Agadtantra, Chaukhamba Publications, Varanasi, 2 edition 2013, pp95
Pandit K Shastri, Dr. G Chaturvedi; Charaka Samhita of Agnivesha; Reprint edition, Chaukhamba Bharati Academy Varanasi; Chikitsasthana 23/42, Vishachikitsa adhyay;1998, p.632.
Pt. Shastri K, Dr. Chaturvedi G; Charaka Samhita of Agnivesha; Chikitsasthana, Vishachikitsaadhyaya 23; Sixteenth Edition, Varanasi, Chaukhamba Bharati Academy, 1989, p.633-640
Charak Samhita, Chikitsasthana, Kushthachikitsa, Chaper 7, Verse 55, Chaukhamba Sansrit Pratisthana, Varanasi, Page .188.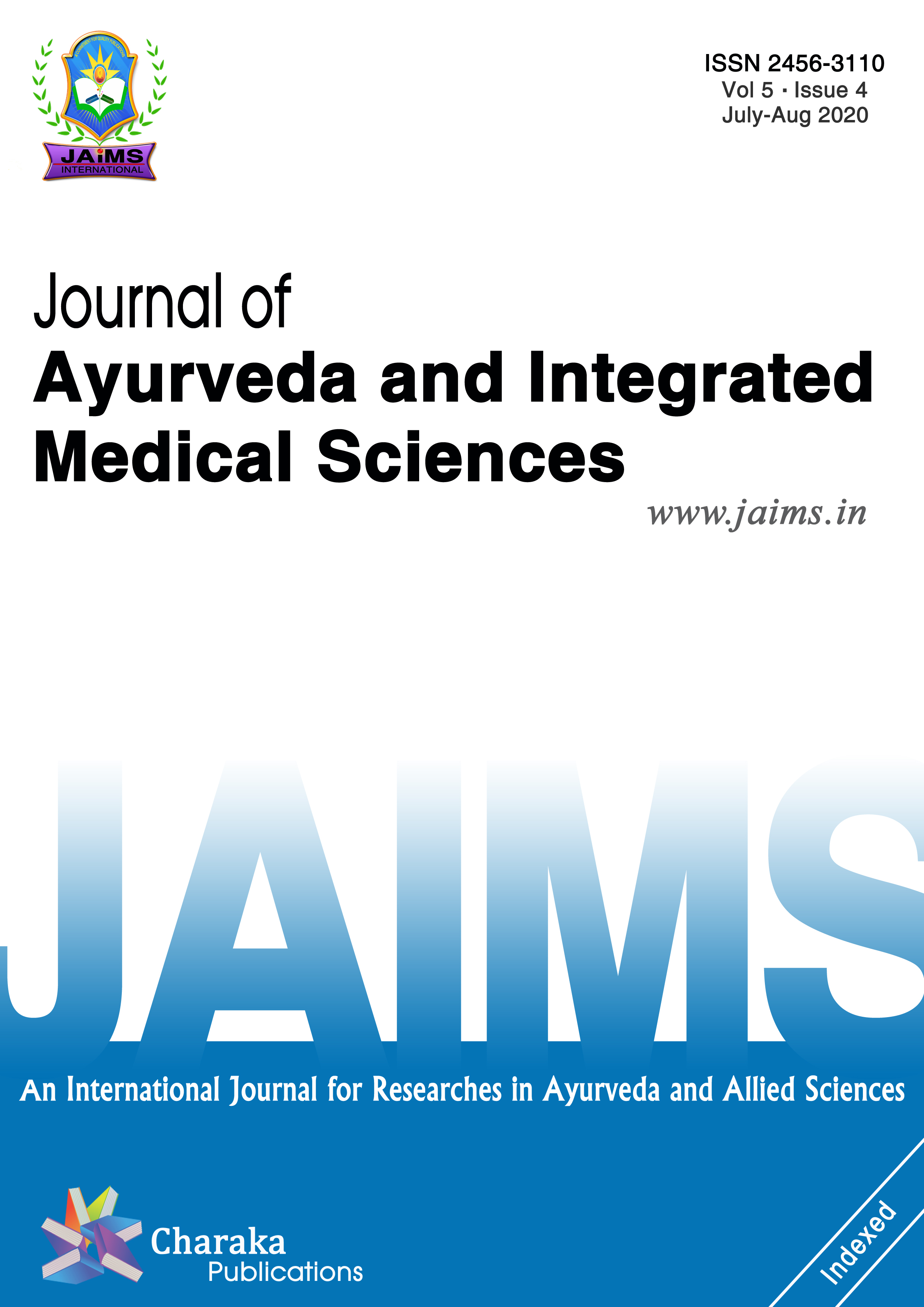 How to Cite
Dr. Ritu, & Dr. Akhilesh Kumar Singh. (2020). A review on Lead Poisoning and its Ayurveda management prospective. Journal of Ayurveda and Integrated Medical Sciences, 5(04), 307-311. Retrieved from https://www.jaims.in/jaims/article/view/988
Journal of Ayurveda and Integrated Medical Sciences (JAIMS) retains the copyright of the contents of this journal but grant the readers the right to use the contents with terms and conditions under a creative common attribution licenses 4 of Attribution, Share Alike and Non-commercial type (CC BY-NC-SA) that allows copy, distribute, display, and perform the work and make derivative works based on it only for non-commercial purposes.

This work is licensed under a Creative Commons Attribution-NonCommercial-ShareAlike 4.0 International License.