Ayurvedic management of Dusta Vrana w.s.r. Decubitus Ulcer : A Case Study
Dr. Naveen Kumar

Post Graduate Scholar, Dept. of Shalya Tantra, Govt. Ayurvedic Medical College, Bengaluru, Karnataka, INDIA.

Dr. Sridhar Rao SM

Professor & HOD, Dept. of Shalya Tantra, Govt. Ayurvedic Medical College, Bengaluru, Karnataka, INDIA.
Keywords:
Dustavrana, Vranashodana, Vranaropana, Kapardika Bhasma, Yashada Bhasma, Jatyadi Gritham
Abstract
The wound heals by natural process but if the wound gets infected it delays the healing, converts it into Dusta Vrana (chronic ulcer). Bed sore or pressure sore are commonly seen in Non ambulatory patients like Paraplegia (Pakshagatha), Quadriplegia. Most common sites are Sacrococcygeal, Shoulder, Occipital regions due to continuous Pressure, immobilization and Malnutrition. Wound healing will be delayed and turns in to Dustavrana (chronic wound); If decubitus ulcer is not treated it may lead to Sepsis and even Osteomylitis which may end in fatal complication. In such condition Vrana Shodana (Purification) and Vranaropana (Healing) Chikitsa is better choice of treatment. In present study a case of non healing decubitus ulcer with sinus at Right hip joint was treated with mixture of Kapardika Bhasma, Yashada Bhasma along with Jathyadi Gritha plugging into the sinus showed effective in treating pressure sores as it possess the properties of Vrana Shodhana and Ropana. Hence this treatment is effective in the management of decubitus ulcer.
Downloads
Download data is not yet available.
References
Hutchinson J (1992). The Wound programme. Centre for Medical Education:Dundee.

Sharma PV. Susrutha Samitha with english translation and Dalana's commentary Vedoutpati Adhaya.vol 1. Sutra Sthana. 2013 reprinted. Varanasi: Chaukhambha Sanskrit Sansthan;2013.p.8.

Dr.Keval Krishna Takral, Susrutha Samitha with Nibandha Sangraha, Dalana's Commentry and Gayadas Acharya Nyayachandrika Hindi translation. Vol 2 Chikithsasthana reprinted in 2017, Chaukhambha Orientalia, Varanasi; p.169,

Sriram Bhat M SRB's Manual of Surgery. 5th edition Jaypee Brothers Medical Publishers(p)Ltd, New Delhi, Reprinted March 2017.p.22. 5. Klingen Smith Mary E.Chen li Ern.The ashington
manual of Surgery 5thedition.LippinCott Williams and Wilkins 2008. P.115.

Yogarathnakara with vidyotini hindi commentary. 1stedtion Varanasi; Chaukhamba Sanskrit Sansthan; 2010.p. 182-184.

Sharma PV. Dravya Guna Vijnana, vol-2.,17thed., Varanasi, Chaukhamba Bharathi Academy; 1996.p 162,144,178.

International Journal of Current Pharmageutical Research vol-2,issue 4,2010 ISSN-0975-1491 Research article on Chemical Standardisation Studies On Varatika Bhasma by Devanathan.R, Rajalakshmi.P and Brinda.P. dated;26 july2010.

Article Nutrients.2018 Jan;10(1):16. Published online 2017 Dec 24. Doi:10.3390/nu10010016 PMCID:PMC5793244 PMID:29295546

Pranacharya Shri Sadananda Sharma Virachitha, Ayurvedacharya Shri Haridattashastri, Kashinatha Shastri, Rasatharangini, Mothilal Banarasdas, Varanasi; 11th edition, 2000.P 474, 479.Total pages 772

Astanga Hridaya of Vagbatta, with commentary of Sarvanga Sundara of Arunadatta and Ayurveda Rasayana of Hemadri Published by Chaukhamba Prakashna, Varanasi, edition;2010,P. 869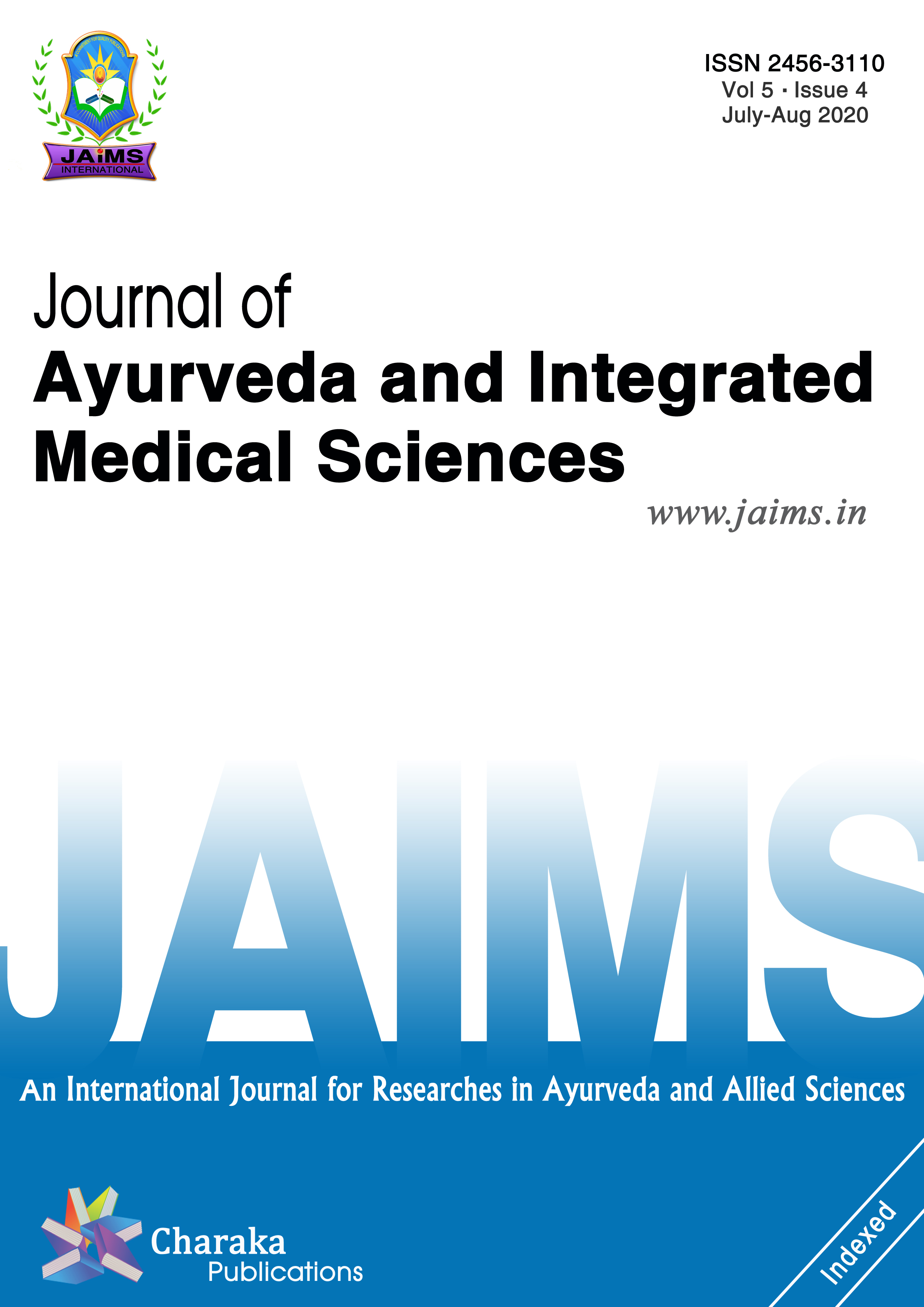 How to Cite
Dr. Naveen Kumar, & Dr. Sridhar Rao SM. (2020). Ayurvedic management of Dusta Vrana w.s.r. Decubitus Ulcer : A Case Study. Journal of Ayurveda and Integrated Medical Sciences, 5(04), 434-437. Retrieved from https://www.jaims.in/jaims/article/view/1013
Journal of Ayurveda and Integrated Medical Sciences (JAIMS) retains the copyright of the contents of this journal but grant the readers the right to use the contents with terms and conditions under a creative common attribution licenses 4 of Attribution, Share Alike and Non-commercial type (CC BY-NC-SA) that allows copy, distribute, display, and perform the work and make derivative works based on it only for non-commercial purposes.

This work is licensed under a Creative Commons Attribution-NonCommercial-ShareAlike 4.0 International License.